FUTURE FEMALE LEADER – PRODUCT SUPPLY
Gillette plant, Łódź (Poland)
March 14 - 15, 2019
ARE YOU A TALENTED 3RD-5TH YEAR FEMALE ENGINEERING STUDENT FROM POLAND?
Do you want to know what P&G can offer to a woman who wants to build a successful technical career? Apply and become one of the selected participants of Future Female Leaders - Product Supply in Lodz on March. Accommodation, meals, and travel to and from the event are paid by us.
WHY JOINING THE FUTURE FEMALE LEADER IN GILLETTE?
Our Plants are ideal places to work, where innovation and creativity drive everything we do. During the first years, our Engineers implement groundbreaking improvements to our systems and processes, engaging technicians and suppliers, reapplying and networking within whole world. Then they start to coordinate production teams, building capabilities and developing technicians to create flexible, loss free, working safely organizations achieving business requirements.
This event will make you to live a unique "on-the-job" experience:
We will show you our technical and innovative Gillette Production Plant,
We will train you on problem solving tools,
You will work in groups on a real technical task,
You will meet and network with our Female Managers,
You will discover Engineering from a creative, meaningful and challenging perspective you'd love.
WHO CAN APPLY
Wondering how to get in? Among all the applicants, we will select the participants based on the following criteria:
P&G online assessment tests results
Strong CV
Fluency in English
If you're one of the chosen ones, we will provide you with accommodation, meals, travel expenses and fun, to make this an unforgettable journey with P&G Engineering.
STEPS TO APPLY
Submit your application online, adding an electronic version of your CV in English
Take our online assessment through the link you receive from us. For info on what to expect, visit our pages on our hiring process on www.pgcareers.com
We will contact each applicant about application result
Sign up HERE for Job Alerts.
APPLICATION DEADLINE: MARCH 8TH
JUST SO YOU KNOW
We are an equal opportunity employer and value diversity at our company;
Our people are all equally talented in unique ways: we come from diverse traditions, personal experiences and points of view. And we want to include yours. Are you ready to inspire us with your unique ideas?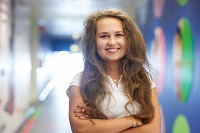 Magda, Manufacturing Trainee at Łódź Gillette plant
I graduated from Mechanical Engineering and I started Management and Production Engineering at Lodz University of Technology. Because I was always interested in a production field, I signed up for Future Female Leader. This was exactly what I wanted to experience. This event gave me a possibility to observe how Gillette plant works. I could learn about razor production processes step by step. What is more, I could experience daily engineer struggles. We were divided into groups and solving production cases using dedicated tools and methods. This was a unique opportunity to see on your own what kind of responsibilities managers have.
This event gave me a sample of real P&G job experience and possibility to talk with young engineers. See you on site!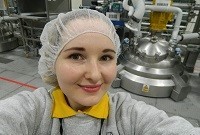 Viktoriya, Manufacturing Trainee at Cosmetics plant, Aleksandrów Łódzki
Hi Future Leaders, I would like to share a unique experience that changed my life for ever since. I studied Process and Chemical Engineering at Wroclaw University of Technology and was about to figure out what career I want to pursue. I was always a proactive person and during student years founded a Scientific Circle, so wanted to find a company in which I could be myself – pursue self-development, learn leadership and make real tangible changes. Also, I knew that I want to work at Product Supply and design processes/ industrial equipment. Taking this challenge, spending 2 days with people I don't know on solving technical problems felt as right thing to do.. and indeed it was!
From very beginning of the event, atmosphere on meeting was extremely friendly, other girls were happy to meet and chat, everyone understood that this was great opportunity to network and find valuable connections. This felt like place at which you are not afraid to speak up or make a mistake. At first day we learned a lot about the manufacturing process at Gillette Plant and even had a workshop about problem solving tools. At second day we were all divided on teams and each team had challenge to face – real technical problem that occurred on plant – we needed to use our technical knowledge, problem solving tools and even deduction skills to find a root cause and recommend a solution. We could ask questions to operators, work with plant documentation and take a close look to machines. Our group founded root cause (Girls in Tech Power!) and presented results to Managing Team.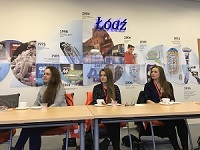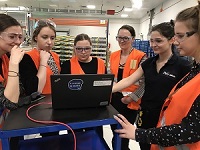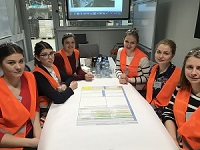 Gillette Plant, Lodz Poland
JOZEFOW STREET

Nowy Józefów 70, 94-406 Lodz, Lodz 90024