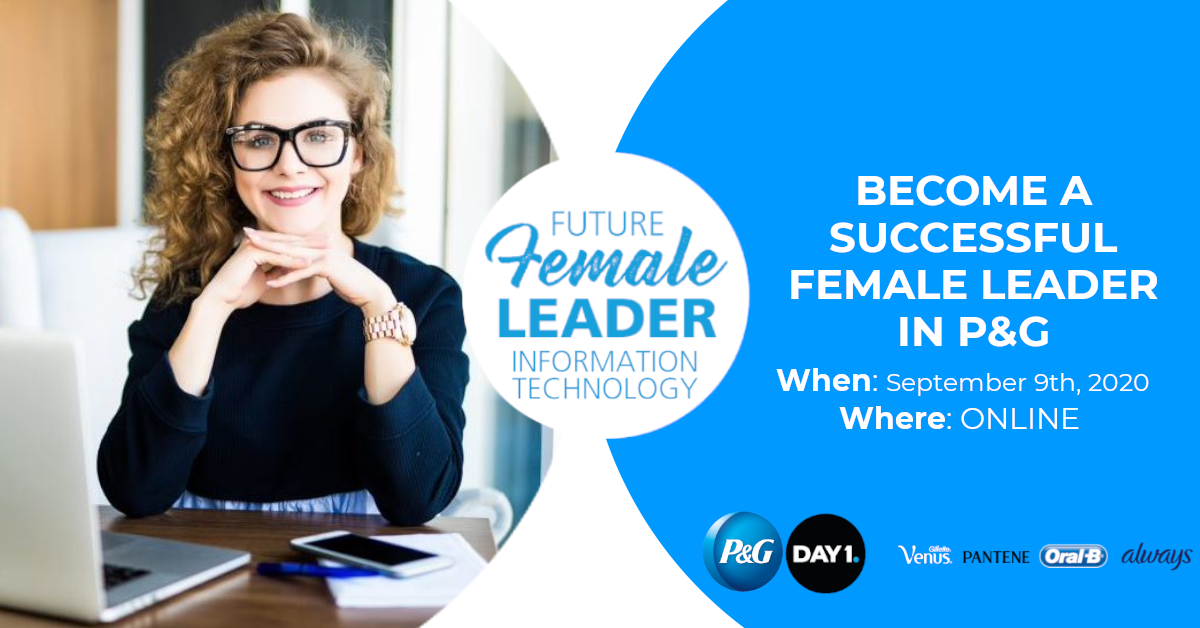 Are you a female student or recent graduate passionate about
business and technology ?
Are you interested in using IT to transform the way people work and make
business decisions ?
Would you like to know what P&G can offer to women who would like to build their careers as IT professionals ?
​
If you answered YES to these questions, apply now and become one of the selected participants for the Future Female Leaders - VIRTUAL IT event on September 9th, 2020.
During this online event you will get a chance to:
Get a deep insight into P&G IT.
Discover how diversity makes a difference in P&G.
Meet P&G female IT leaders and experience how day-to-day work looks like.
Meet our young professionals and learn about their experiences at P&G.
Get insights into the latest technologies.
Get a glimpse of how business, innovation and technology come together at P&G to foster competitive advantage.
Apply today to join our event!
QUALIFICATIONS
Female students and recent graduates of all faculties with a passion for business and technology.
Strong engagement in academic life and positive attitude towards challenges.
Enthusiastic about being a leader, collaborating in diverse teams and cracking analytical puzzles.
Strong English verbal and writing skills.
In order to participate, you must hold a valid EU work permit or a valid student visa.
APPLICATION AND SELECTION PROCESS - SIGN UP before August 14th, 2020.
Step 1 - Click either of the buttons below - you will be asked to submit your application and CV and answer some pre-qualification, assessment questions.
Step 2 - You will receive a link to the Online Assessment by email (it may take up to 24h). You need to complete this assessment by August 16th, 2020, 20:00 CET
After that we will review your application and select the participants to the event based on:
Results of the online assessment
Candidate profile assessment
If selected, you will receive an invitation email with more details about the event.
​
APPLY FOR THE EVENT TODAY and embark on an unforgettable journey with us
If you have questions, please check our FAQs (link).
ABOUT IT IN P&G
Information Technology (IT) at Procter & Gamble is where business, innovation and technology come together to create competitive advantage. Our mission is to deliver IT to help P&G win with consumers. Our IT professionals are diverse business leaders who apply IT mastery to deliver game-changing, technology-driven business models and capabilities. Whether your role is to create an IT innovation strategy for a business, protect our critical information systems and assets, or manage a strategic supplier in our cutting-edge Shared Services organization, your technical mastery will be recognized and rewarded. Your passion for the industry will be further cultivated by our culture of continued learning and growth. A career in IT builds change leadership and influence skills, breadth of experience across multiple businesses, and depth of expertise in areas like Application & Integration, Infrastructure, Data & Analytics and IT Security & Risk.