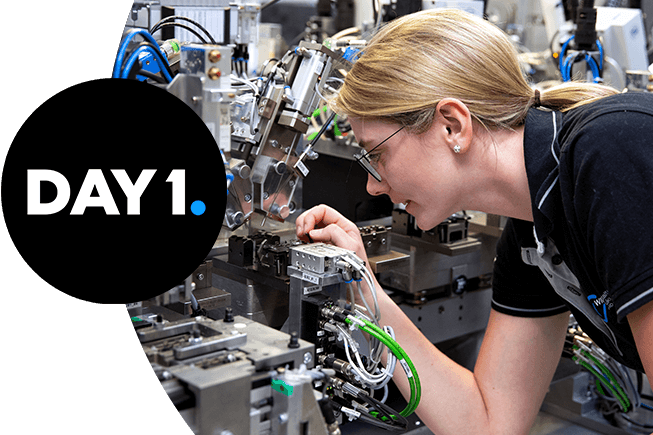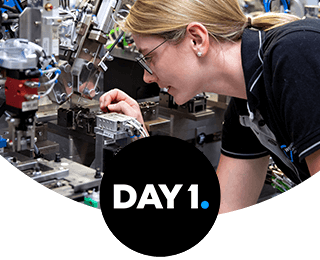 Explore the innovative systems and processes behind our products
Produktion/Ingenieurwesen - Praktikum/Abschlussarbeit (m/w/d)
Multiple Locations
Do you want to transform materials for winning consumer experiences? Then an Internship as a Manufacturing/Engineering Intern in one of our plants might be the right place for you to gain this experience. In our Manufacturing department, we produce consumer goods to supply our customers with high-quality product, on-time, and at a low cost. You will help us innovate to ensure the development and use of the most advanced technologies. We value your creativity and skill in analyzing and solving problems.
Full Time
Level: Intern
Travel: Yes (occasional)
Success Profile
What makes a successful Manufacturing Intern at P&G? Check out the top traits we're looking for and see if you have the right mix.
Courageous
Entrepreneurial
Helpful
Inventive
Leadership
Trustworthy

Responsibilities
Description
Your challenge: Makinga world class product!
Karrierechancen für Nachwuchskräfte der Ingenieurwissenschaften bei Procter & Gamble.
Procter & Gamble ist einer der erfolgreichsten Konsumgüterhersteller der Welt. In unseren deutschen Werken werden Produkte für den gesamten Weltmarkt gefertigt und zum Teil die Fertigung von Produktionslinien an verschiedenen Standorten Europas betreut. Unter Einsatz modernster High-Tech Steuerungs- und Fertigungstechnik erweitern wir unsere führende Marktposition auf fast allen Märkten der Welt.
In Deutschland sind wir inklusive Gillette und Braun an 10 Standorten vertreten. Wir bieten Praktika und Abschlussarbeiten an folgenden Standorten an:
Crailsheim, Euskirchen, Gross-Gerau, Worms, Berlin, Altfeld, Wallduern, Marktheidenfeld und Kronberg.
Dies bietet die einzigartige Gelegenheit, Technikkompetenz und Managementtalent unter realen Bedingungen und mit konkreten Aufgaben zu erproben. Ein wachsender Teil unserer Nachwuchskräfte sind ehemalige Praktikanten.
Projekte könnten zum Beispiel sein:
Projekte im Bereich Implementierung neu entwickelter Technologien in der Serienfertigung
Analyse und Optimierung von Fertigungsprozessen
Konzepterstellung Rohstoffhandling
Reduzierung der Wassermengen bei Reinigungs- und Sanitisierungsprozessen
Projekte zur Verbesserung der Verpackung in Zusammenhang mit Linienlaufeigenschaften
Projekt zur Verbesserung der Lieferketten in der Produktherstellung, Untersuchung von Lösungsansätzen, Optimierung der Materialflüsse in der Lieferkette unter der Maßgabe, Bestände zu reduzieren, Arbeitsprozesse zu vereinfachen und Materialverluste zu vermeiden.
Concept for "Just in Time" delivery
Quality: Umsetzung einer statistischen Prozesskontrollstrategie (SPC) für die Überwachung bestehender Herstellungsprozesse sowie die Validierung neuer Prozesse/Produkte
4-6 monatige Projekte mit komplexen technischen Aufgabenstellungen, Selbständigkeit und rasch wachsender Eigenverantwortung in einem jungen, dynamischen Team
das Praktikum/die Abschlussarbeit als mögliches Sprungbrett zu einem Direkteinstieg nach dem Studienabschluss
Wir bieten Dir:
Qualifications
Du bringst mit:
Mindestens 3 Semester eines technischen Studiengangs (Elektrotechnik, Maschinenbau, Prozess- und Verfahrenstechnik, Mechatronik, Automatisierungstechnik, Kunststofftechnik, Wirtschaftsingenieurwesen)
Sehr gute analytische Fähigkeiten und schnelle Auffassungsgabe
Überdurchschnittliche Studienleistungen
Ausseruniversitäres Engagement
Kommunikationsfähigkeit, Durchsetzungskraft und Teamfähigkeit
Gute Englisch- und Deutschkenntnisse
Als global aufgestellter Konsumgüterhersteller verfügt P&G über ein einzigartiges Portfolio sehr erfolgreicher und weltweit führender Marken. Ständige Innovation ist das Lebenselixier unserer Marken. Getragen wird unser Erfolg von den vielfältigen Talenten und Spitzenleistungen unser Mitarbeiterinnen und Mitarbeiter. Worin auch immer Deine Leidenschaft liegt – wir wollen Dich unterstützen, Dein gesamtes Potenzial zu entfalten, und es Dir ermöglichen, das Beste aus Dir herauszuholen.
Wir haben uns durchaus ehrgeizige Ziele gesetzt. Um diese Ziele zu erreichen, sehen wir uns unserem Unternehmenszweck, unseren Werten und Prinzipien verpflichtet. Mit Deiner Arbeit bei uns bietet sich die Chance, das Leben von Menschen zu berühren und mit unseren Produkten im Alltag einen echten Unterschied zu machen. Startpunkt für alles bei P&G ist Verständnis – Verständnis für die Verbraucher und für unsere Mitarbeiterinnen und Mitarbeiter. Das ist unser Ansatz, um Innovationen zu entwickeln, die das Leben heutiger und künftiger Generationen verbessern.
Die folgenden Dokumente vervollständigen Deine Bewerbung:
- CV als separates Dokument
- Bewerbungsanschreiben für die entsprechende Stelle
- Eine Kopie Deines Abiturszeugnisses (A-levels/Baccalaureate Noten) sowie eine Kopie Deines Bachelor und/oder Masterabschlusses, falls zutreffend.
- Kopien von Arbeitsbescheinigungen und Empfehlungsschreiben über Arbeitserfahrung, Praktika und freiwillige Tätigkeiten oder Aushilfsjobs.
Bitte beachte, dass einzelne Anhänge nicht größer als 5 MB sind. Du kannst bis zu 25 Dateien anhängen. Sollten einige Deiner Dateien zu groß sein, versuche eine Anlage als zip-Datei zu erstellen.
Sollte Deine Bewerbung unvollständig sein, kann dies ggf. eine erhebliche Verzögerung im Recruiting-Prozess bedeuten.
Dies ist eine Ausschreibung für ein Praktikum oder eine Abschlussarbeit. Solltest Du nach einer Vollzeitstelle suchen, bewirb Dich bitte auf die Stelle als "Prozeßingenieur" mit der Jobnummer MFG00006317.
Location: Euskirchen, Germany, Kronberg, Germany, Worms, Germany, Marktheidenfeld, Germany, Walldürn, Germany
Job Id: MFG00006316
Apply Now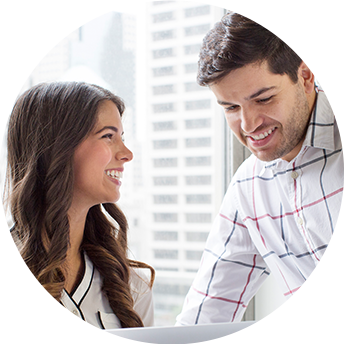 STAY INFORMED
Join our Talent Community to receive via email information about P&G, upcoming events, and job alerts.
SIGN UP FOR: