P&G Nordic established itself in Sweden in 1969 and since then has expanded to cover Denmark, Finland and Norway. Today, we serve Nordic consumers with trusted brands like Yes, Head & Shoulders, Gillette, Pampers, Always and Oral-B. With a Nordic headquarters in Stockholm, P&G employees are located in all 4 Nordic countries.

We offer opportunities for students to join us for internships in Sweden. We also hire professionals across the region who are truly experts in their field – if you are an experienced professional take a look here
We're consistently recognised as a leading employers listed in The Best Places to Interview – Glassdoor and Universum's Most Attractive Employers. We are also recognised for being an inclusive employer who values diversity being listed amongst the 'Best Places to Work for Disability Inclusion' and the Best Places to Work for LGBTQ Equality.

P&G is committed to being a good corporate citizen, and to always doing the right thing. We want to be known as a company that is governed responsibly and behaves ethically; one that is transparent in our business dealings, and that supports good causes and protects the environment. We continuously drive our commitment to provide an appealing place to work where our employees are treated well. We're proud of our P&G partnership with Cancerfonden which generates donations that support the fight against breast cancer.
We offer a creative and dynamic work environment where our employees are at the core of everything we do. Whether you are helping to design our latest front-end innovation, selling to some of the Nordic's biggest retailers or designing a full-blown product launch you will be enabled to bring your best.
Career areas in Nordics - click here to access more information about each function :
Brand: Marketing/Business Management
Finance & Accounting
Human Resources
Information Technology
Intellectual Property/Legal
Logistics/Supply Network Operations
Sales (roles available in Denmark, Finland and Norway)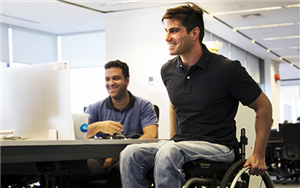 People With Disabilities
Sweden - General Office

Telegrafgatan 4, Solna, 16972 Stockholm

Norway - Oslo GO

Nydalsveien 28, 0422 Oslo

Finland - Espoo GO

Sonckin Kaari 10, Espoo, 02600 Helsinki

Denmark - Copenhagen GO

Stensmosevej 15, Albertslund, 2620 Copenhagen