ABOUT US
Although headquartered in the US, P&G was founded by an Englishman and an Irishman in 1837 as a soap-making company. Since then, P&G has expanded to 70 countries worldwide, beginning its international expansion with the acquisition of Thomas Hedley Co., based in Newcastle upon Tyne, in 1930. Ever since, P&G has maintained a strong presence throughout the UK and Ireland, producing some of the countries' most well-loved brands such as Fairy, Gillette, Pampers, Oral-B and Pantene.
OUR LOCATIONS
Today, P&G UK & Ireland employs over 2,800 employees across 9 sites which span the length and breadth of the UK and Ireland. This includes:
- Commercial Sites based in Surrey, Harrogate & Dublin.
- Innovation Centres based in Reading & Newcastle upon Tyne.
- Manufacturing Operations and Distribution Centres based in Skelmersdale, Greater London, Manchester & Reading.
- And a Global Service Centre based in Newcastle upon Tyne.
​​
In collaboration with one another, our P&G UK and Ireland sites enable us to design, test, produce and market some of our most iconic leading brands and to remain at the forefront of the company's global sustainability goals.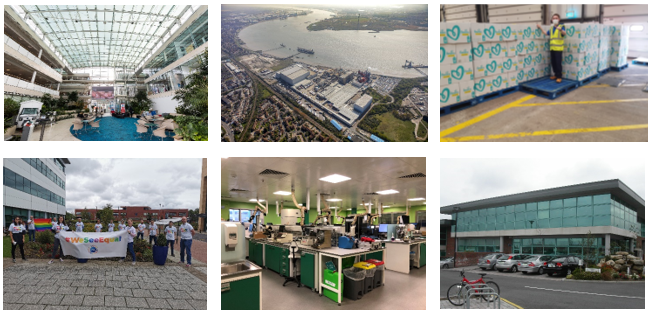 From left to right (top): Our Head Office in Surrey, and Manufacturing Operations and Distribution Centres based in Greater London and Manchester.
From left to right (bottom): Our Global Service Centre based in Newcastle upon Tyne, Innovation Centre based in Newcastle upon Tyne, and Commercial Site based in Dublin.
​
WORKING AT P&G UK & IRELAND
Our products touch the lives of five billion people every day. And with great reach comes great responsibility – not just for our people and our products, but for the society we live in, and the communities we share.
Our People & Our Products
We invest heavily into the early development of our talents as we promote from within our own ranks and continuously, aiming to grow the skills of our employees.
We offer a creative and dynamic work environment where our employees are at the core of everything we do. Whether you are helping to design our latest front-end innovation, selling to some of the UK and Ireland's biggest retailers or designing a full-blown product launch, you will be empowered to succeed.
Work life balance is something we take very seriously, as we know you do, so we offer a flexible and agile working environment. If you want to see what its really like behind closed doors here at P&G UK take a look at our graduates' Instagram account (click on image below):
Most of all, we strive to represent the diversity of the consumers we serve. With around 60 nationalities represented in our Northern Europe workforce (>140 nationalities globally), our own diversity helps us to understand and meet the varied needs of consumers around the world: after all, the best thinking, best ideas and best innovations come from diverse teams with different experiences.
Our Society & Our Planet
- All of which enables us to constantly (and proudly!) challenge the status quo. We redesign products (e.g. H&S beach plastic bottles) and implement wholly new business models (e.g. loop). We use our voice in marketing to address important issues such as gender equality (e.g. "The best men can be", "Like A Girl"), and equality & inclusion (e.g. "The Words Matter", "Love Over Bias", "The Pause").
As a result of our responsibilities and commitments, P&G is consistently recognised as a leading graduate employer in the UK and Ireland. Listed in Times Top 100 Graduate Employers; The Best Places to Interview – Glassdoor; Guardian UK 300; Job Crowd – Best Places for Graduates to Work and Universum's Most Attractive Employers.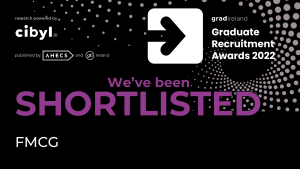 ​
OUR OPPORTUNITIES
We offer opportunities for students to join us for internships and placements as well as offering full time roles for graduates through our career academies. We also hire professionals who are truly experts in their field – if you are an experienced professional take a look here:
To find out more about our functions and our various roles, follow these links :
​
SEARCH OPPORTUNITIES FOR:
INTERNSHIPS RECENT GRADS/ENTRY LEVEL EXPERIENCED PROFESSIONALS
​
OUR EVENTS:
P&G UK and Ireland will be holding a series of online Masterclasses which will enable you to find out more about the different functions we hire into. Please click on the links below which will be updated once information in available about the online sessions.
​
LEADING BRANDS:
From Day 1, you'll help fulfil our purpose of improving lives in 180 countries through leading, billion-dollar brands. We always begin with the consumer in mind, and then we see how our brands can go beyond and help make life better for everyone, everywhere.
​
​
​

MAKING AN IMPACT:
P&G is driven to make life better—not just within the company, but out in the wider world. From Day 1, we've been committed to doing the best by each other—our employees, our consumers, and all people of the world. And you will be, too.
​
Click on the images below to see what our current graduates are up to on Instagram @PGGradsUK
Did You Know?
It was a UK scientist who created the water purifying technology which has allowed us to provide over 17 billion litres of clean water to people in need around the world to date via our Children's Safe Drinking Water Programme.
Our 'Tide Loads Of Hope' global disaster relief service originated from the introduction of our mobile laundry effort in the UK to help those affected by the blitz in WWII.
In 2017, we were the first company to bring audio description to our brands' advertising in the UK and Ireland.
Newcastle

Cobalt 12, Silver Fox Way, Cobalt Business Park, Newcastle-upon-Tyne, NE27 0QW

Manchester

Trafford Park, Manchester, M17 1NX

London Plant

Hedley Avenue, West Thurrock, Grays, Essex RM20 4AL

Dublin Office

The Graan House, Unit E1-14, Calmount Park, Ballymount

P&G UK HQ

The Heights, Brooklands, Weybridge KT13 0XP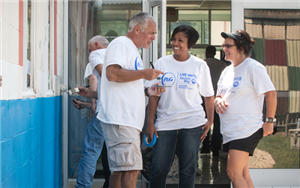 Our Culture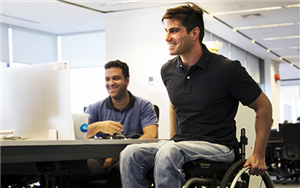 People With Disabilities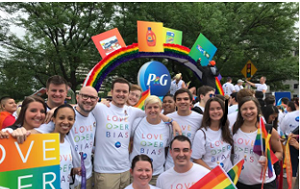 #WeSeeEqual