YOU'RE INVITED TO P&G'S ANNUAL SIGNAL CONFERENCE!!!
Via our Global Virtual Event platform, the P&G Signal Conference welcomes an impressive list of internal and external speakers to explore the questions, strategies, and best practices for growth focused innovation-now and in the future. Signal's unique blend of disruptive founders, industry-leading executives, and thought leaders will light up P&G's virtual stage.
This year's program is hosted by John Battelle, co-founder and CEO of Recount Media, Chairman ofSovrn Holdings, co-founder of WIRED, and one of the industry's foremost thought leaders on the intersection of digital and marketing.
The Signal virtual event will be open to all P&G employees, external partners, and candidates at no cost. Registration will be completed via Hopin, our virtual event platform. Please select the "P&G Partner" ticket type when registering to ensure access to all of the integrated networking capabilities. After registering, you will be directed to create a Hopin account. This step is required to access the event.
Signal Conference Schedule and Speaker List: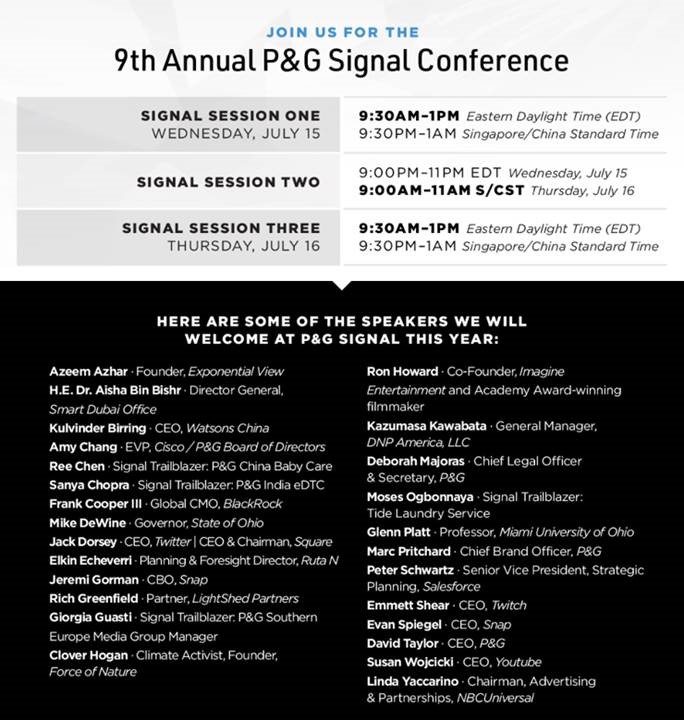 As you check out Signal, we hope you come away with a behind the scenes look at the innovative work and strategic partnerships that P&G employees encounter through their work. We would love it if you took the time to explore P&G Career opportunities listed below!
OUR OPPORTUNITIES
During our event you likely heard of specific career areas and/or role opportunities for P&G. See below to learn more about all of our career opportunities currently available!
From Brand Managers to Engineers to Scientists and more, it takes a lot of very different people to bring our products to life—95,000, in fact! Every career area matters, every team makes an impact, and every single person does something that matters, from Day 1 and every day.
Provide your information below, and we'll reach out to you if a relevant job opportunity becomes available!