HIRE A VETERAN, GROW A VETERAN, UNLEASH A VETERAN

OUR STORIES OUR VETERANS AFFINITY NETWORK OUR LOCATIONS OUR OPPORTUNITIES
P&G was founded over 180 years ago as a simple soap and candle company. Today, we're the world's largest consumer goods company and home to iconic, trusted brands that make life a little bit easier in small but meaningful ways. We've spanned three centuries thanks to three simple ideas: leadership, innovation and citizenship.

The insight, innovation and passion of talented teams has helped us grow into a global company that is governed responsibly and ethically, that is open and transparent , and that supports good causes and protects the environment. This is a place where you can be proud to work and do something that matters.
OUR STORIES
"I CAN CONTINUE MY MISSION TO MAKE LIVES BETTER HERE"​

ANDRE​

PREVIOUS MILITARY EXPERIENCE: U.S. ARMY INFANTRYMAN, COMMUNICATION SPECIALIST AND MEDICAL LOGISTICIAN​

​

"I chose P&G because our military values coincide with our company values. Our missions are the same, and that's to 'touch lives' and 'improve life.' Our brigade at Fort Hood, Texas deployed many of our units to regions around the world to render aid and support for communities that were in distress. We successfully relieved these communities through teamwork and a dedication to one goal, which was to 'touch' and 'improve' a life. This is exactly what we do on a daily basis at P&G. We work as a team and focus on strategies that will grow our business and, most importantly, improve the lives of our consumers. Diversity is our strength because it gets everyone involved to evaluate our mission from all different perspectives, which allows us to innovate keys to winning. This is also exactly the method that our U.S. military embraces, because we all share that same passion for winning. It was a proven formula for success throughout my military career and one of the reasons that we have the greatest military force in the world. I am very proud to have served honorably and join a company such as P&G that shares these similar traits and values. We are implementing a proven philosophy that's making the lives of billions easier every day. Just another great shift at P&G."​
"I'M LUCKY TO HAVE FOUND THE CAMARADERIE AND SUPPORT I CHERISH IN A CIVILIAN ROLE"​

DAN ​

PREVIOUS MILITARY EXPERIENCE: U.S. NAVY, SURFACE WARFARE OFFICER (SWO)​
CURRENTLY MOBILIZED TO COMMAND TASK FORCE 51 IN BAHRAIN AS STAFF OFFICER AND BATTLE WATCH CAPTAIN​

​

"When I decided to leave the Navy, I was naturally worried about joining the business world. Would there be that feeling of teamwork and camaraderie, like I experienced as an SWO? After five years with Procter and Gamble, I have been blown away. The caliber of people I work with and the management above me has been nothing short of exceptional. Managers not only provide clear direction, but there is an abundance of training and processes in place. Additionally, there is a wealth of people who are willing to mentor and help in your career development. I am writing this in Bahrain where I am a deployed Naval Reservist serving with Command Task Force 51. The support I have and continue to receive has been overwhelming. This time away from my family is hard but with the support of friends, family, and knowing the type of company I have to work for when I return – I truly feel blessed."​
OUR VETERANS AFFINITY NETWORK
JOIN P&G AS A VETERAN. JOIN A FAMILY.

As a Veteran at P&G, you can expect

Access to senior leadership and Veterans career mentor programs​

Opportunity to recruit future Veterans into P&G​

Participation in community service programs via Veteran Owned Small Business and local Veteran Initiatives​

Annual Veteran recognition programs and Veterans Day ceremonies​

Quarterly Veteran speaker series​
OUR Locations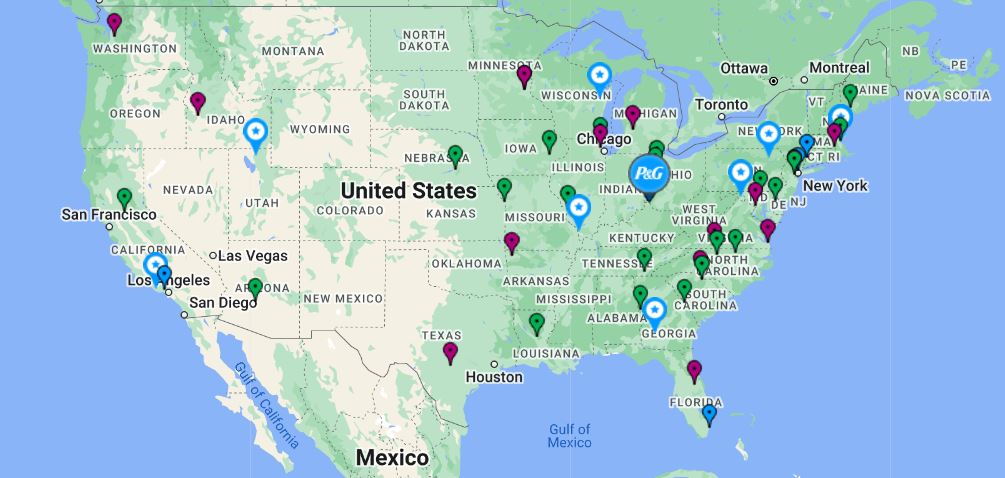 OUR OPPORTUNITIES
Apply to an opportunity at Procter & Gamble and join us today!
STUDENT RECENT GRAD EXPERIENCED PROFESSIONAL PLANT TECHNICIAN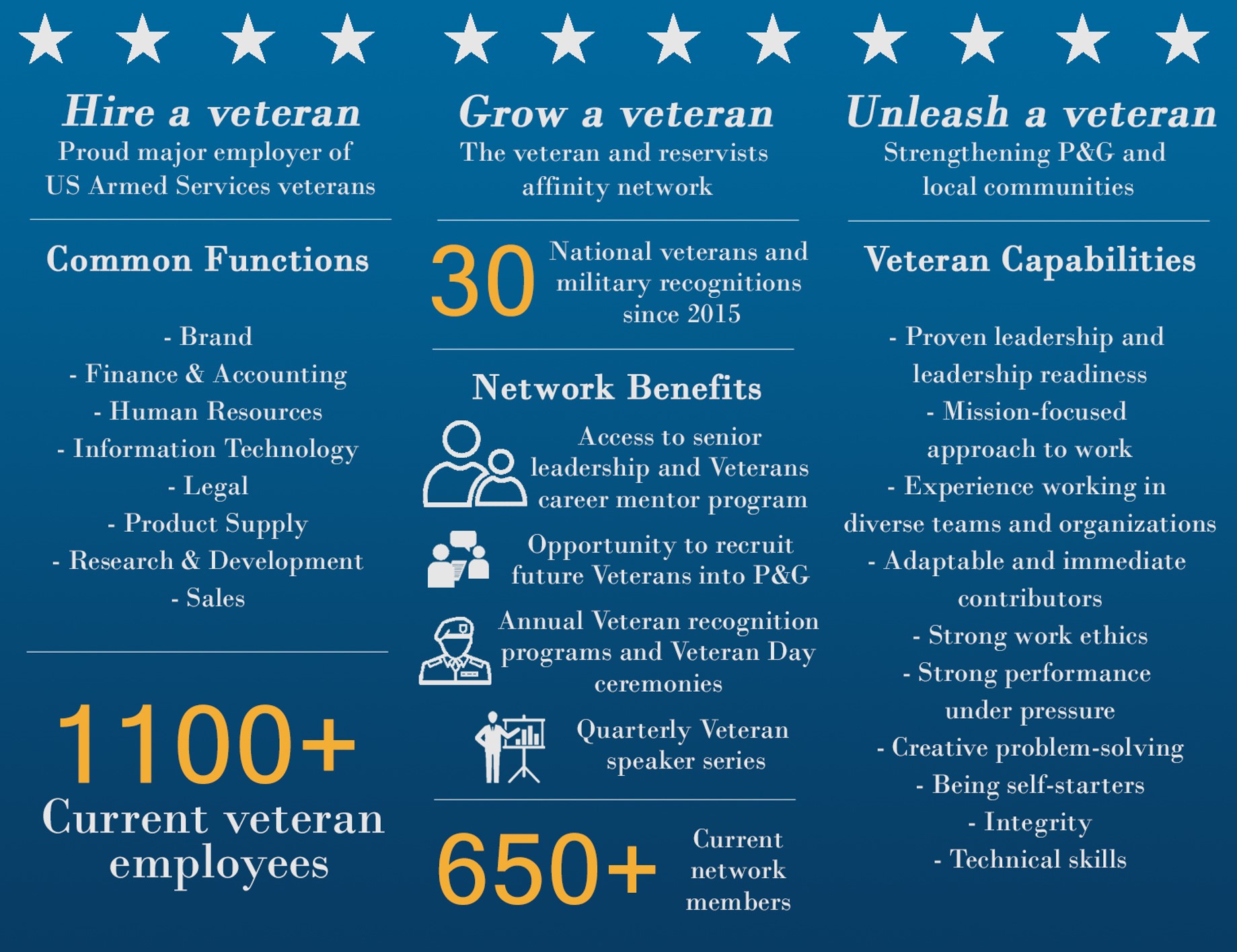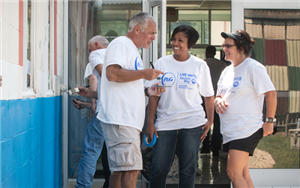 Our Culture